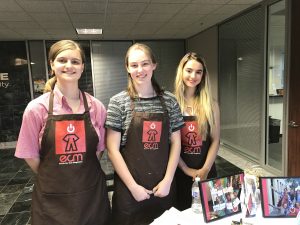 Engaging Creative Minds is looking for high school students to serve as Junior Counselors for our annual, six week, national award-winning STEAM Camp. (We incorporate ART into STEM to make STEAM!!!!)
Junior Counselors may sign up for one week or more to assist certified teachers, local artists, STEM professionals and cultural leaders in a phenomenal summer experience! Counselors will be engaged in all aspects of our weekly themes that include integrating art experiences with STEM curriculum.
The curriculum will not only benefit campers but Junior Counselors as well!! Many of this year's camp themes include technology that is current in today's job market. Don't miss out on an incredible learning experience! Sign up as a counselor and help to enhance your own future job skills!

Summer STEAM Themes 2018
Week 1- June 11-15- Carolina Jams- Come "cut a record" with us! Activities will include writing lyrics, mixing and mastering tracks, and recording original songs in the recording booth on the Carolina Studios mobile music studio bus! Students will work with computer software to produce an original song and will leave the camp with their own CD. Other engaging activities will include designing cover art, choreographing dance for a music video and exploring the science of sound.   This is a truly unique experience that is not to be missed!
Week 2- June 18-22- The Force is With Us! – Join us on an amazing odyssey through outer space! We will explore scientific concepts of motion, gravity, and friction as we learn more about our fascinating solar system! Jedi training games, planetary "juggling" and "out of this world" sci-fi skits will be part of the fun. Campers will also design the spacecraft of the future in our maker space. (And watch out for an appearance by Darth Vader himself!)
Week 3- June 25-29- Theme Park Imagineering – Do you love to visit theme parks with thrilling rides, special characters, and awesome theming? Come join us for a week of planning the next big theme park! With imagination as our driving force, we will engineer, design, and create the park of the 21st century. Students will work with potential and kinetic energy as they design a thrill ride, create a fun theme park game, and stage an amazing parade! This camp could inspire the Walt Disney of the future!
Week 4- July 9-13- Engineering Your Future- Did you know that 65% of today's schoolchildren will work in a job that doesn't currently exist? The employer of tomorrow will require design-based thinking, creativity, and problem-solving skills from their employees. This week is all about building those skills! Campers will engage in fun hands-on activities that will introduce them to exciting career pathways as they design a car, build free-standing structures, invent new paint mixtures, and design the fashion of the future. Our maker space will feature lots of opportunity for tinkering fun and campers will be encouraged to think in bold new ways!
Week 5- July 16-20- Toy Box 2.0 – This week is all about every kid's favorite thing: toys! We will learn how toys are designed and marketed, tell our own "toy stories" through digital animation, test and judge toys, play creative games, and best of all- design our own top toy of the future! Our maker space will be one big toy-palooza! Don't miss this incredibly fun week!
Week 6- July 23-27- Magnificent Mixtures: Chemistry for Kid-Scientists! This week will be full of bubbling, fizzing, and a few (totally safe) explosions! Campers will be engaged in chemistry concepts through hands-on experiments, visual art, theater, and athletic games. (And yes, there will be tons of SLIME!)