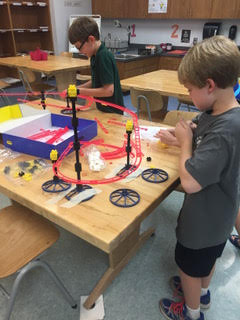 22 Apr

Engineering for Kids Charleston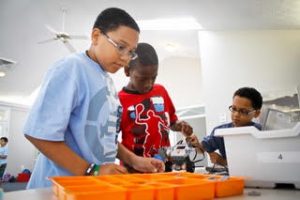 Science, Technology, Engineering, and Math (STEM) education – offering hands-on-learning for children ages 3 to 14 through FUN and challenging activities from designing and constructing rockets, hot air balloons, roller coasters to robotics, video game designing and creating fun objects using LEGO® bricks.
                                      Sample Lessons
Junior Mechanical Enginee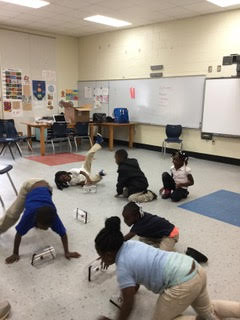 ring: How Toys Are Made
Our youngest engineers will be introduced to fundamental concepts of energy, materials, and movement. Students explore and construct six different toys throughout this unit, including spinners, magical boomerang cans, wind-up whirligigs, and more.
Mechanical Engineering: Master Machines (Grades 3-5)
During the Mechanical Engineering program, students use the Engineering Design Process to design, create, test, and refine a variety of machines and mechanical systems. Students learn basics of fluid mechanics, simple machines, and other design and engineering concepts while constructing roller coasters, egg-drop vehicles, and an incredibly fast air powered dragster they keep at the end of the course.
Junior Space Pioneers (Grades K-2)
Embark on fun journey to space with Scratch! Send an astronaut to the moon and defend your moon base from space rocks. Learn how to use Scratch to create and program sprites, backdrops and basic scripts. Create a new program each day, leave with evidence of your wild space adventure, and be inspired to explore the universe of programming as a Space Pioneer.
Medieval Machinations: MinecraftEDU Redstone (Grades 3-5)
This program will introduce students to the many uses of Redstone through a Medieval themed adventure of creation, exploration, and castle besieging, with students making mine cart tracks to help them gather resources, working together to build their kingdom, and designing traps to defend their castle, all with the use of Redstone.
Junior Robotics (Ages 5-7)
This class is a perfect mixture of fun and learning, using LEGO® WeDo™ Robots. Using LEGO® bricks, students build a dancing bird, a smart spinner, and a drumming monkey. They also learn how to program and operate their creations using a laptop computer.
Junior Robotics:  Simple Machines United (Ages 5-7)
We use simple machines every day, but many times without even recognizing them. In Junior Robotics: Simple Machines United, students will explore the basic concepts of simple machines and how we use them to achieve even our most grandiose goals! Students will use LEGO® WeDo™ construction and resource kits to produce new and exciting builds that will be used to create Kelvin's Amusement Park.
 Robotics 101
Introduce students to both robot building as well as programming. The students will build robots to accomplish a specific task while using their imagination to make their robot better than the basic robot. During the class students will discover the Engineering Design Process in a real world setting as they test their robots multiple times.